Første torsdag i måneden: Bønn for kall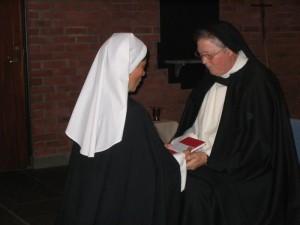 Faith is seeing things as Jesus does (cf. Lumen fidei, 18). Faith is the source of vocational discernment, because faith provides vocational discernment with its fundamental contents, specific development, personal style and pedagogy. Joyously and willingly accepting this gift of grace requires making it fruitful through concrete and consistent choices in life.

"You did not choose me, but I chose you and appointed you that you should go and bear fruit and that your fruit should abide; so that whatever you ask the Father in my name, he may give it to you. This I command you, to love one another" (Jn 15:16-17). If the vocation to the joy of love is the fundamental call that God has placed in the heart of every young person so that each one's existence will bear fruit, faith is both a gift from on high and a response to feeling oneself chosen and loved.
(Fra forberedelsesdokumentet til bispesynoden 2018:
«Young People, the Faith and Vocational Discernment»)