Kjærlighetens tegn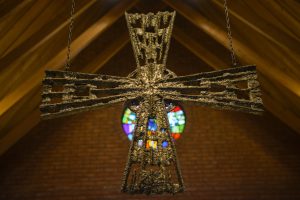 Ved dette ble Guds kjærlighet åpenbart blant oss, at Gud sendte sin enbårne Sønn til verden for at vi skulle leve ved ham.
Ja, dette er kjærligheten, ikke at vi har elsket Gud, men at han har elsket oss
og sendt sin Sønn til soning for våre synder.
Mine kjære, har Gud elsket oss slik, da skylder også vi å elske hverandre.
(1. Joh. 4,9-11)
---
Christ gives a person two basic certainties: the certainty of being infinitely loved and the certainty of being capable of loving without limits.
Nothing except the Cross of Christ can give in a full and definitive way these two certainties and the freedom they bring. Through them, consecrated persons gradually become free from the need to be at the centre of everything and to possess the other, and from the fear of giving themselves to their brothers and sisters. They learn rather to love as Christ loved them, with that love which now is poured forth in their hearts, making them capable of forgetting themselves and giving themselves as the Lord did.
By the power of this love a community is brought to life as a gathering of people who are free, liberated by the Cross of Christ.
(Fraternal Life in Community – Congregavit nos in unum Christi amor, 22)